Interpreting / Translating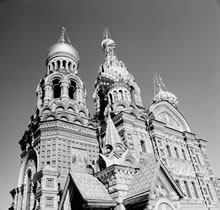 A good interpreting and respectively translation service requires the realisation through a well-trained interpreter or translator, as not anyone who speaks two languages is able to communicate between the languages and cultures. I am a graduate linguist with doctor's degree (translator), who studied in Russia as well as in Germany. My law studies and as well as my further training in business studies qualify myself for professional interdisciplinary activities.
In order to offer first class language services I abide in my interpreting and translation activities by the following rules:
I achieve professionalism through my substantiated professional training and constant further trainings.
For my customers I offer services at best ratio of price and quality. I am certain that good quality can be reasonably priced.
I translate texts from areas that I am versed in and in that I have enough experience. For translations into a foreign language I consult a native speaker for verification. Every translation comes under an accurate verification in form and content before it is handed over.
I perform all the work myself and therefore I am responsible for my services. In this I differ from pertinent service agencies.
Does this style of cooperation meet your expectations? Then please read up on my services on the following website or contact me immediately. I would like to take enough time for a personal call and will submit you a first offer.